Hello and Happy Thanksgiving everyone!
I thought I'd take a mini-break from blogging about weddings and marriage this week, and share another one of my loves with you: cooking. Thanksgiving is my very favorite holiday. I typically cook a big breakfast in the morning, and then spend the rest of the day cooking until dinner is ready. I cook the entire meal myself, and I wouldn't have it any other way:) I love planning the menu, grocery shopping, and preparing/timing everything perfectly. In a way, there are a few similarities to wedding planning:)
I wanted to share one of my very favorite Thanksgiving recipes with you today: stuffing. I think that stuffing is probably my very favorite dish I make every year – not going to lie, I am a huge fan of carbs!  So without further delay: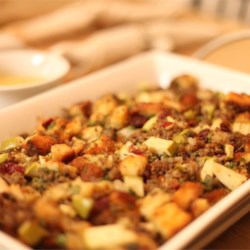 Ingredients
1 box of Mrs. Cubbison's Classic Dressing
1lb ground spicy pork sausage                    1 Golden Delicious apple, cored and chopped
1/2 chopped onion                                        1/2 cup fresh cooked cranberries
2 1/2 teaspoons dried sage                         4 tablespoons unsalted butter, melted
2 sprigs of fresh rosemary                          3/4 cup chicken stock
1/2 teaspoon dried thyme                          1/3 cup minced fresh parsley
Directions
In a large skillet, cook the sausage and onions over medium heat, stirring and breaking up the lumps until evenly browned. Add the sage, rosemary, and thyme; cook, stirring, for 2 minutes to blend flavors.
Pour sausage mixture over Classic Dressing in a bowl. Mix in chopped apples, cranberries and parsley. Drizzle with chicken stock and melted butter, and mix lightly. Spoon into turkey to loosely fill.
Enjoy!
I hope you all have a wonderful Thanksgiving, spent with those who mean the most to you!
XOXO Nicole